Let StackaStage take your performances to new heights
Staging for Centres of Worship
StackaStage modular staging for worship makes it easy for you to add flexibility to your place of prayer. The ease of deployment and elegant looks of StackaStage make it ideal for use in both historic and modern places of worship.  In an historic building the smooth finishes and wooden components ensure there are no concerns about damage to floors and the design of StackaStage allows for some unevenness of the floor it is being placed on.
We can provide removable communion rails and kneeler steps and can finish the stage with stain, veneers or carpet to tone in with the worship environment.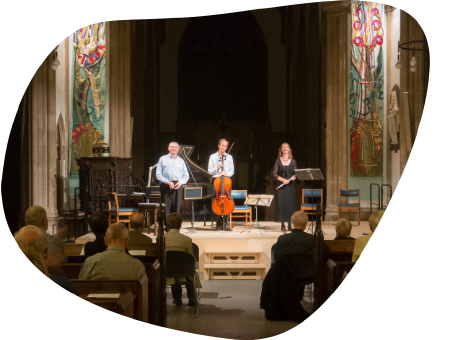 Lightweight Stages For Churches & Places Of Worship
Whether being used as a worship dais, a modular stage to perform on, or simply to bring the person taking the service into the body of the church to create a more inclusive feel, the mobile staging we provide is a great addition.
Easy to Assemble Portable Staging
Our stages can be put up and dismantled extremely quickly meaning it isn't a hassle to change the layout of your place of worship. StackaStage slots together quickly and can even be put together by supervised primary school children without difficulty. The whole system packs away on a purpose made trolley which makes it easy to store out of the way.
Modular for Multiple Purposes
StackaStage modular staging is very versatile and you can use it to dramatically change any space. Whether you want to bring a presenter into the congregation, give prominence to the choir or create a pulpit, StackaStage staging for worship is the perfect solution.
You can view all of our products by visiting the store here. Alternatively, please call or email to discuss your individual requirements – we will be pleased to guide you through the options and make sure you have the perfect system for your place of worship.
Get a free quote along with our full colour brochure
Click the button below to get a free quote and a full colour brochure which explains everything you need to know about StackaStage – components, accessories, applications and much more.
If you are not sure exactly what you need, we can help guide you based on our years of experience of working with a wide range of different organisations across the UK.
Or call on 01934 824092 to talk to us about your requirements.
We are more than happy to come and demonstrate StackaStage to your at your convenience. If you want to arrange a free demonstration click here .
Alternatively please call us on 01934 824092 and we will answer any questions you might have.
If you would prefer to email us then please use [email protected]..