Let StackaStage take your performances to new heights
Portable Staging For Choirs
StackaStage are industry leaders in the UK when it comes to supplying bespoke modular wooden staging. Applications for the staging are limitless and bound only by your imagination.
With the simple to build easy storage staging solution, we have supplied many different clients, but we want to showcase our choir risers in use by one of our customers, in particular, Harwich Sing.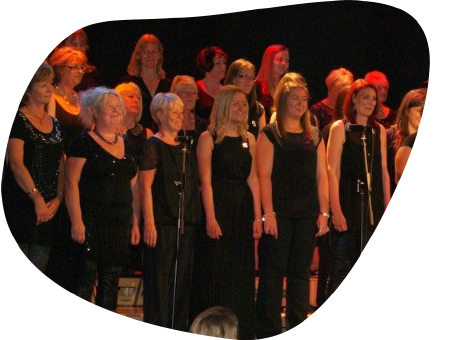 Harwich Sing Choir Staging
Harwich Sing, an award-winning choir, based in Harwich, Essex, have been using the staging to raise their performances to a new level, exhibiting creative and classic use of the StackaStage wooden stage as a multi-level tiered choir riser system.
You'll see several pictures of the fantastic Harwich Sing group below, showcasing the risers and staging kit in a working environment and different set-ups. We also took the time to find some great YouTube videos of the choir in action.
Multi-Level Tiered Choir Staging
As a growing group, popular in the Essex area with many award-winning performances, Harwich Sing needed a specific staging system, such as our StackaStage Stage Kits, for correctly lifting the choir during a performance to ensure that everyone could be seen and that everyone could see the conductor.
Harwich Sing approached us with their challenge and we discussed the requirements for the choir risers over the phone. We approached the problem with a speedy outcome in mind so as to not impact the choir practice or any performance where a stage was needed.
We quickly determined that multi-level risers for the choir (also sold separately) were needed for the customer, along with step modules to create a good solid step up to the stage and to create a platform for the conductor.
Construction of the Choir Risers
We have been working and perfecting our product over many years – we founded the business in 1991 as a precision engineering company and in 1996, we started offering audio visual services.  From our work in the AV field we identified portable staging as a necessity at many events, which led us to launch StackaStage in 2009.
Since then we have been providing our customers with high-quality modular staging (available as stage kits with trolleys, individual risers, and bespoke designs), that, most importantly, is portable. We offer a range of products available for order, each meticulously designed, tested and built with the end user in mind.
"The simple to build system has been a fantastic addition to the choir allowing us to create dynamic set-ups depending on the number of singers we have at a given performance or practice."
You can have a look around our online store for specific products, but we do offer standard kits available for immediate purchase.
You can find some videos of Harwich Sing in action below. We chose these videos from a large range of videos that they have, which you can find on YouTube. In these videos, you can see the custom, bespoke choir risers and complete portable choir staging system we designed to fit their individual needs.
If you're interested in finding out more about Harwich Sing, then head over to their Facebook page.
Portable Staging for Choirs – Manufactured in the UK
Get a free quote along with our full colour brochure
Click the button below to get a free quote and a full colour brochure which explains everything you need to know about StackaStage – components, accessories, applications and much more.
If you are not sure exactly what you need, we can help guide you based on our years of experience of working with a wide range of different organisations across the UK.
Or call on 01934 824092 to talk to us about your requirements.
We are more than happy to come and demonstrate StackaStage to your at your convenience. If you want to arrange a free demonstration click here .
Alternatively please call us on 01934 824092 and we will answer any questions you might have.
If you would prefer to email us then please use [email protected]..