Let StackaStage take your school performances to new heights
StackaStage offers an exceptional solution for schools with its modular portable staging, designed to elevate the experience of plays, recitals, performances, and presentations. Its versatility allows for seamless integration across various areas of the school, making it an invaluable asset. Whether it's a compact hop-up to enhance classroom interaction, sports podiums for outdoor events, or captivating performances in drama studios, StackaStage delivers remarkable adaptability.
When it comes to a school stage, durability, sturdiness, and safety are of utmost importance, especially when children are involved. Our staging system for schools surpasses these requirements with flying colors. Not only does it offer robust construction and long-lasting performance, but it also adheres to the highest safety standards, providing a secure environment for students to showcase their talents. From the smallest classroom to the grandest school hall, StackaStage ensures a stage that inspires creativity and guarantees a memorable experience for everyone involved.
Modular Staging for Schools
We've created our stages with schools in mind, making absolutely sure that it's safe, compact to store, quick and easy to set up and pack away.
StackaStage is perfect for schools because it's lightweight and designed with rounded corners and smooth edges. This helps to prevent injury to users and minimise the chance of damage to the building it's used in.
StackaStage is finished to a high standard, with two coats of hard-wearing lacquer to make it easy to keep clean and ensure it stays looking good for many years. StackaStage is safe for children of all ages — including those in primary schools — to use and even assist with assembly. StackaStage portable wooden stages slot together effortlessly.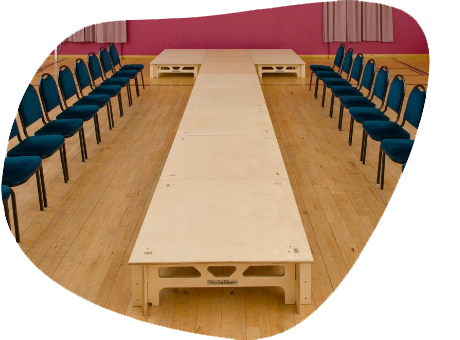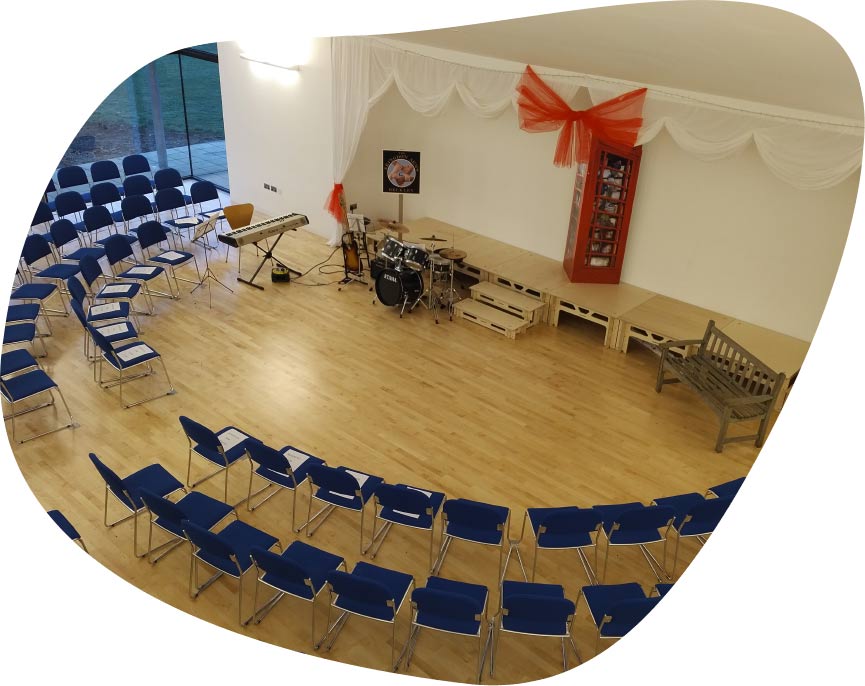 The children of Firs Farm Primary School love building their school stage for their music performances (seen in the photo opposite).
StackaStage's modular portable staging for schools is available for sale in a wide range of kits, complete with trolleys, as individual single riser sets, or as a completely bespoke design to meet your unique specifications. We're always happy and ready to create a stage which will suit your requirements, including carpet options, heights to match existing stages, other timber veneers to match existing floors, special finishes and different colours.
Read below to discover the many benefits of StackaStage school staging.
School Staging Safe Enough for the Children to Build
Our high-quality school stages are made with health and safety in mind. All of the edges and corners are rounded to reduce the likelihood of splinters or injury. Making the stages child-friendly and easy to use means pupils can get involved with creating the stage, as well as performing on it.
Of course, some pupils may not want to perform on the stage, so having equipment they can build means that they too can be involved with a performance. It could be their first steps to being a stage builder or set designer! The equipment could alternatively be used to create props or scenery. We recommend that children are supervised when assembling or dismantling staging.
Browse our complete portable staging systems for schools online. Alternatively, contact StackaStage and we will talk you through the options and provide a quotation.
An Environmentally Friendly School Stage
Our school stage system is made from lightweight, but hard-wearing materials. We use sustainably sourced birch plywood. This high-quality plywood is made from birch trees, one of the most abundant tree species on earth.  All the timber used is harvested from sustainably managed temperate forests. We manufacture StackaStage in our own factory here in Somerset; offcuts are burned to heat the factory and the waste wood dust is used for bedding cattle and horses.   
Using durable material means our stages will last for 20 years or more, which makes StackaStage excellent value for money.  We offer a five-year guarantee on all purchases because we know that the stages will last.
Compact Storage, No Tools, and Supplied Trolley for Fast Assembly
Our school stages can be put together in minutes and dismantled just as quickly. With a compact trolley, they can be stored at the side of the hall or wheeled away for storage elsewhere. We've designed the school stages to pass through a standard doorway, making the stages accessible in multiple classrooms.
The speed with which you can set up StackaStage is valuable to so many schools. We understand that a room or open space often has to be used for many purposes. Being able to quickly and efficiently assemble the stage is a genuine benefit that you'll love when using StackaStage equipment.
With a variety of sizes available and accessories such as carpet decks, handrails and valance curtains, you can create a unique and versatile school stage that allows you to put on the perfect performance. 
View our full range of portable staging here, or give StackaStage a call on 01934 824092 to find out how we can create the ideal stage for you.
Contact us for your school stage needs
Receive a free quote and our full-color brochure, which includes staging options for schools
Click the button below to get a free quote and a full colour brochure which explains everything you need to know about StackaStage – components, accessories, applications and much more.
If you are not sure exactly what you need, we can help guide you based on our years of experience of working with a wide range of different organisations across the UK.
Or call on 01934 824092 to talk to us about your requirements.
Frequently Asked Questions
How does StackaStage ensure safety for children using their portable stages for schools?
StackaStage was designed form the outset with safety in mind. Due to the way in which StackaStage is designed it is virtually impossible to assemble stage modules which are unsafe. To further increase the safety of stage arrangements we also offer a range of handrails and toe rails, all edges and corners are smooth and rounded to minimise the chance of personal injury or damage to the fabric of the building it is used in.
How tall is a modular stage?
Our school stage heights are 200mm, (8″) 300mm (1′ or 12″) 400mm (16″) 450mm (18″) 600mm (24″ or 2′).
What are the benefits of using StackaStage's modular staging system in schools?
StackaStage is exceptionally compact when not in use. The unique flat-pack design condenses the staging on to very compact trolleys which are sized to pass through standard doorways, infact StackaStage is likely the most compact to store stage system available. StackaStage is strong and rugged, designed to stand up to decades of daily use in educational environments. The components slot together quickly and easily without the use of tools and there are no flimsy components to bend or break and its all wooden construction means it is quieter than many metal framed systems when in use.
Can children actively participate in the assembly and dismantling of StackaStage school stages?
Stackastage can be assembled by school children, this is a great way to get children involved in school productions even if they don't want to appear 'on stage' themselves. (we recommend supervision at all times during assembly and a final safety check before use). The parts are made so that you can't assemble modules in a way that isn't safe to use. The parts self interlock so 'forgetting the bolts' isn't really an option!
What materials are used in StackaStage's school staging systems, and are they environmentally friendly?
Most manufacturers try and make environmental claims about their products but there are very few staging systems which can genuinely match StackaStage for its low environmental impact. StackaStage is made from birch plywood, sourced from temperate forests which are certified as well managed. Timber is the only truly renewable building material, it literally grows on trees! In fact timber is approximately 50% carbon all of which is removed from the atmosphere as the tree grows, actively combating climate change. StackaStage is a high quality product designed for long life so it locks that carbon safely away for many years. Finished with a non toxic but tough water based lacquer and made in a UK factory which runs on electricity from renewable sources, StackaStage can genuinely claim to be minimising its impact on the planet.
How does StackaStage facilitate fast and easy assembly and storage of their portable stages for schools?
Assembling Stackastage couldn't be any easier. The parts will only fit the way they are meant to go so you can't really get it wrong! All staging is supplied with easy to follow instructions and if you aren't one for written instructions we are always available on the end of the phone! All parts are designed to be lightweight and easy to handle, the heaviest single item is the deck which weighs just 12Kg so staging can be set up by 1 person quickly and easily. Specially designed trolleys make storage and transport of staging very easy and present all components so that they are easily accessible and ready to use.
We are more than happy to come and demonstrate StackaStage to your school at your convenience. If you want to arrange a free demonstration please click here .
Alternatively please call us on 01934 824092 and we will answer any questions you might have.
If you would prefer to email us then please use [email protected]..