Let StackaStage take your performances to new heights
StackaStage Portable Modular Stage System Applications and Uses
Portable staging from StackaStage is the perfect solution for those looking for a mobile stage which is easy to assemble, store and transport.
Portable staging is staging which can be moved from place to place and set up wherever required. It's sometimes referred to as mobile staging, demountable staging, temporary staging, stage blocks, modular staging, folding staging and, more alarmingly, collapsible staging!
With stage systems in a huge range of sizes, you can be sure to find the one which is right for you, whether you work for a school, theatre, church hall or any other venue. Our high-quality staging has a smooth finish which is second to none; all the edges of our stages are rounded and safely sealed.
StackaStage is the simple, strong, stowaway stage system with exceptionally compact and convenient storage. Sound like the perfect fit for you? Find out more about our various portable stages below.
Our staging is ideal for all venues and companies. Building a stage with our portable stages is simple, too, with no dangerous edges and a simple setup process. There are no rough edges or sharp corners on our modular stage equipment, so no need to worry about splinters or people catching themselves.
Each piece of stage fits together easily and perfectly, meaning you can create a stage to whatever size and shape works best for you. When you buy a stage, you can choose our trolleys, allowing you to transport the stages effortlessly. (Our standard stage kits are supplied complete with trolley)
Want to know how StackaStage's portable staging will work for your specific venue?
Here's a quick guide to how our staging can be adapted and used for just about any setting.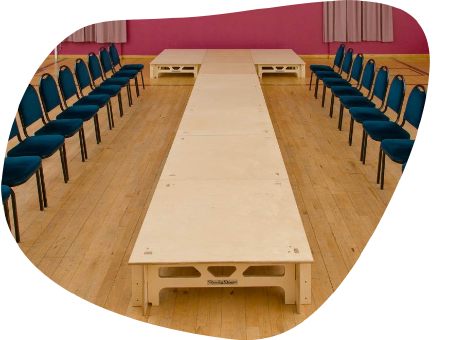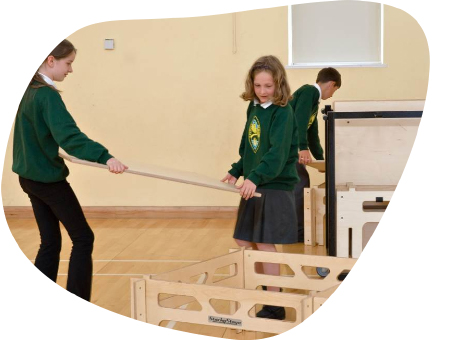 Our modular stage systems are very popular with schools. They are perfect for school performances, plays and recitals. The stages are so simple and safe to put together that the children can get involved with the assembly.
Durable and easy to store, StackaStage's portable storage ticks the box for every school — and there is a range of sizes available to suit every need.
Whether you need staging for a church hall or community centre, portable staging is ideal for any kind of performance in halls.
The stage can easily be stored away, or left in one position if it'll be used on a regular basis. The durability means that it'll remain in top condition for as long as you need, and can fit the requirements for whoever is using the hall.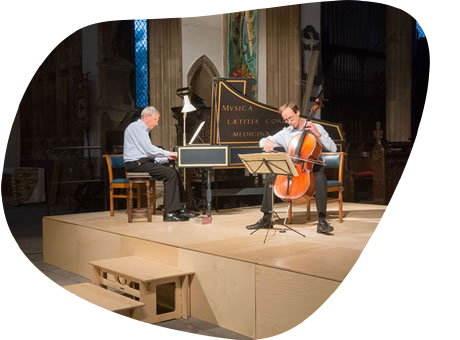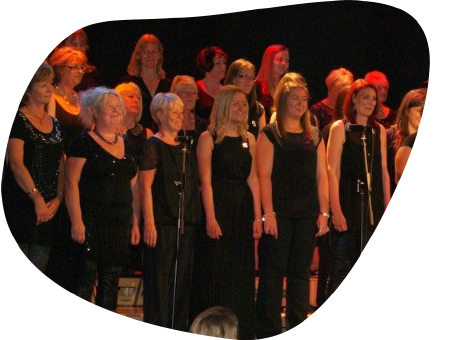 Choirs are full of amazing singers, so every single person should be both seen and heard! Our choir staging is perfect for adding tiered layers, so that a whole choir has a chance to stand out.
Choir groups can even bring the portable staging with them on tour to various venues, to make sure that their formation is perfect every time.
Our mobile stages are also ideal for places of worship. Their simple, yet elegant design means they can easily fit into both historic and modern places of worship.
Depending on the use of the portable stage, we can easily modify the stage to fit your requirements. This could mean adding removable rails, kneeler steps, or finishing the steps with a carpet.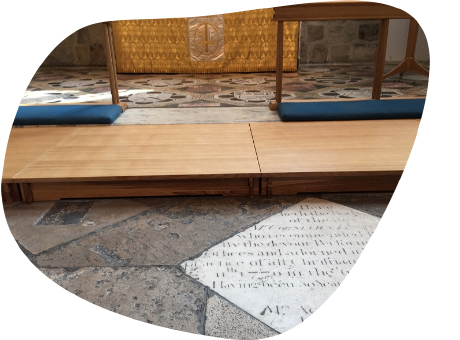 Whether you need a mobile stage for a hotel, leisure centre, golf club or any other venue for hospitality, StackaStage is versatile and can fit the requirements for any bookings and events. Easy to move between rooms and simple to store, it's perfect for your needs.
Benefits of Stackastage System
In case you needed any more reasons why our portable staging systems are the very best, here are a few more key features of StackaStage's portable staging:
We offer a five-year guarantee on all our products. We trust the durability of our products and know that they can last for 20 years or more.
We offer the most compact storage on the market (12sqm stored in 0.86sqm space) and there are five standard heights available.
Our trolleys pass through all standard doorways, making them easy to move from room to room.
Our staging is made in the UK from birch plywood which is manufactured from managed, certified and sustainable sources.
It's easy to add accessories like ramps, valance curtains, scenery boards, handrails and fascia panels. We can also add alternative deck finishes; stain, emulsion, carpet and non-slip textured finish are available.
There are so many reasons to choose our high-quality stages. With simple assembly and an exceptionally smooth finish, we know they can transform your space.